Share this URL: https://popcon5.peatix.com/
Event is FINISHED
POPCON : Meet-Up Episode 5 starring Sujimy Mohamad & Cili Bling feat Brendan de Cruz!
Hello hello everyone!
Hope everyone's doing great! Sorry we went missing for a bit but let's just say we were recovering from food coma thanks to all those Raya open houses! But not to worry, we are back!
So, are you ready for some PopCon time??? Here are the details for Episode 5 and this time we have one of the biggest influencers on FB from Singapore! So come join us for PopCon Episode 5 and jump-start your amazing content creation today!
Presenting PopCon Episode 5…
FROM 0 TO 150K SUBSCRIBERS IN 18 MONTHS!
by Sujimy Mohamad, FB VLogger with 133k followers
Learn first-hand how Sujimy Mohamad, a 30-year veteran in Singapore's media industry went from traditional TV to social media stardom! Sujimu's vlogs have garnered between 500k to 3.2 million views reaching out to more than 6 million people! Find out how Sujimy grew his followers on Facebook from 0 to 133k & win over sponsors in just 18 months and how you can too!
HOW I GREW MY INSTAGRAM CHANNEL FROM 0 TO 100K
by Cili Bling, Instagram Beauty Influencer with 121k followers
Hailed as one of the Top 8 Malaysian MakeUp Gurus to follow on Instagram, hear from Cili directly how she started and how she grew her base of followers and works with brands the likes of Sephora today! Based in Kuala Lumpur, beauty influencer Cili Bling has more than 121k followers on Instagram and 14.4k subscribers on YouTube.
PERFORMANCE BY BRENDAN DE CRUZ
In addition to our speakers, you guys will be entertained by the very talented Brendan de Cruz!
Woot woot! Brendan de Cruz's performance has been described as truly special, and his music described as "honest, raw and heart-tugging." As one of Malaysia's greats in the indie music scene, his performance is something you would not want to miss as every bit you can get from this man is a gift!
Click here for more information on our speakers!
So, if you're looking to level up your knowledge on digital branding & marketing or you'd like to learn how to create amazing content, PopCon Episode 5 is definitely not a night to be missed so come join us!
Date : Thursday, 2nd August 2018
Time : 7:00pm (Registration)
Event : 8:00pm – 10:00pm
Venue : The Seminar Hall, 1st Floor @ Oasis Village,
Jalan PJU 1A/7A, Oasis Damansara
47301 Petaling Jaya, Selangor.
Price : FREE but seats are limited so do hurry! Book your seats by registering here!
Directions to PopCon
Notes:
1. Each person can only register one ticket at a time. But you can register again for another ticket using your same account once you close the window. We are doing this as we are building our database so we can serve everyone better!
2. This is a new room located within the same location (Closer to the 1st few PopCons) so be sure to watch the directions video which we will put up on FB as well as Instagram on @PopConFest.
That's all for now. See you on the 2nd!!!
XOXO,
The POPCON team
P/S: Should you need any help or have any questions, please email us at hello@popcon.io or call whatsapp Siti +6012-200 7875
About our Speakers & Performers…
Sujimy Mohamad's Facebook, Instagram, YouTube & Website.
Cili Bling's Instagram
Brendan de Cruz's Facebook, Instagram & YouTube.
Or learn more about our speakers http://bit.ly/2NT1k5a
About PopCon
PopCon – Leveling up local stuff for the world through online video!
PopCon is a monthly gathering for people who love online video content, creators, influencers, marketeers and many others who come together to learn, grow and become big together-gether in this massive world of online media! Every month, we hold free talks by successful creators or people from the industry. So if you'd like to learn or hack your growth in online video, come join us or follow us!
For more info on PopCon, go to http://popcon.io/
Or come join the PopCommUNITY @ FB : Popconfest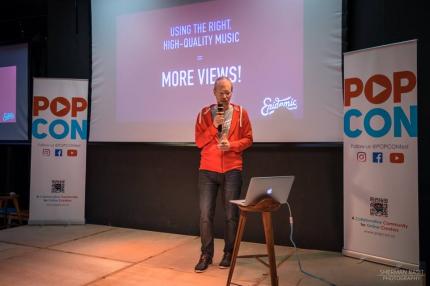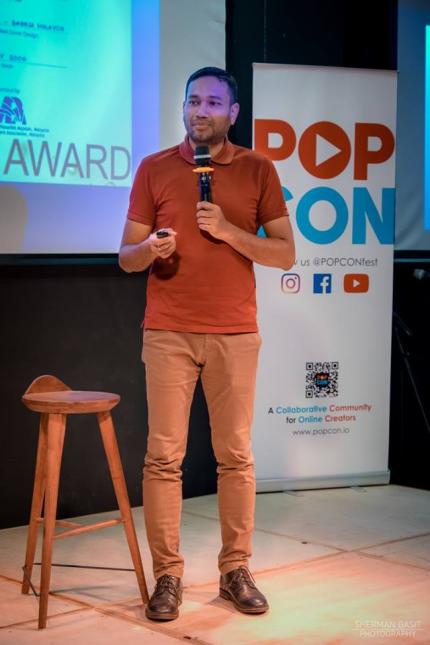 read more
Updates
The event description was updated. Diff#357092

2018-07-29 16:10:23
More updates
Thu

Aug 2, 2018
7:00 PM
-
11:00 PM
MYT
Add to Calendar
Venue

The Seminar Hall, 1st Floor @ Oasis Village, Ara Damansara
Tickets
Venue Address

The Space @ MindSpace, G01A, Oasis Village, Oasis Square, Oasis Ara Damansara,

Malaysia
Organizer
Want to find more groups and events like this?